Todays news 
29/12/2022
Chetan Sharma, who is the chairman of the outgoing Team India selection committee, has reapplied for the post. Harvinder Singh has also reapplied for the post. Other former cricketers who have applied for the post include Venkatesh Prasad, Sridharan Sharath, Shiv Sunder Das, Maninder Singh, Mukund Parmar, Nayan Mongia, Salil Ankola and Sameer Dighe.
2/12/2022
FIFA World Cup: Riots in Brussels after Morocco beat Belgium
Copy writes from Times OF India
Read more at:
http://timesofindia.indiatimes.com/articleshow/95815798.cms?utm_source=contentofinterest&utm_medium=text&utm_campaign=cppst
Eye on clean energy, government aim ..

'Unfair': Gym owners in Delhi to protest today near L-G's office, demand reopening of fitness centres
Published on Jan 29, 2022 07:38 AM IST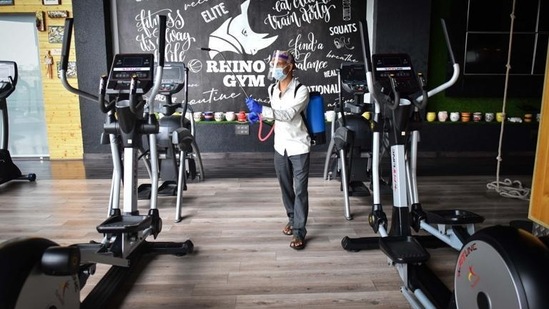 There are around 5,500 gyms and over 100,000 people earn their livelihoods from this industry.
Speaking to news agency PTI, Chirag Sethi, vice president of the Delhi Gym Association, said on Friday that gym owners have suffered the most during the ongoing pandemic.
"Cinema halls, multiplexes and banquet halls were shut along with gyms as a first step to curb the virus' spread in December. But yesterday, everything was open except for gyms and spas," Sethi said.
He added that in the next DDMA meeting, authorities should allow gyms to reopen.Pointing out that more than 100,000 people employed in various gyms across Delhi are being affected due to their closure, Sethi hitout at the government authorities by saying that health is never their priority.
"If the DDMA doesn't want people to be healthy, please let us know and we will also open liquor shops. This is really unfair to the fitness industry of Delhi," Sethi further said.
Another gym owner told the news agency that fitness centres are shut despite following all Covid-19 norms, but there has been no action taken to prevent crowing at weekly markets.
According to the latest order issued by the Delhi Disaster Management Authority (DDMA) on Thursday, the weekend curfew has been scrapped, shops can remain open on all days of the week from 10am to 8pm and cinema halls, bars and restaurants can function at 50% of their seating capacity.However, the DDMA has still not allowed the reopening of gyms in Delhi.
Shikhar Dhawan's workout may motivate you to hit the gym. Watch : 
Speaking to news agency PTI, Chirag Sethi, vice president of the Delhi Gym Association, said on Friday that gym owners have suffered the most during Covid-19.
"My we

ekly fitness regime is four sessions of gym," says Shikhar Dhawan.(Photo: Instagram/shikhardofficial).We may not wish to leave our cosy blankets as the winterseason approaches. The lack of motivation kicks in, and going outside seems like a task, especially if it is going to the gym. So, if you also feel the same, a recent video of Shikhar Dhawan may motivate you to exercise. In a reel shared by Shikhar Dhawan on his Instagram page, you can see him exercising at the gym. The short clip shows him performing overhead squats with weights. In the caption's post, the cricketer wrote, "Your body is your weapon. Keep it strong."
Relax and heal
Exercise bike vs treadmill: Which one is better to choose for cardio exercise?
When we talk about cardiovascular fitness equipment, exercise bikes and treadmills are hands down the most preferred and popular ones. For quintessential cardio lovers, it is indeed a tough decision to choose between the two. Experts reveal which one is better


"In such a patient assessing overall cardiac risk and controlling blood pressure before allowing him to exercise is crucial. In the absence of a pre-enrollment check if any cardiac event like heart attack happens, people will be quick to blame #exercise as the culprit!" he continued.
"Most people who develop a heart attack or cardiac arrest while exercising have a pre-existing cardiac condition which has not been diagnosed. So it is critical to screen people before letting them join the gym. Also depends on how intense the training will be," he said.
Monday motivation: Shilpa Shetty's 'pull-ups, push-ups and lunges' inside a bus is perfect fitness inspo
Looks like a not having the perfect athleisure wear cannot be cited as an excuse to procrastinate exercising anymore as Bollywood actor Shilpa Shetty Kundra ticked off Monday morning workout inside a bus, donning a pantsuit, while on her way to the airport and we are inspired. Giving fans and fitness enthusiasts a glimpse of her Monday workout, Shilpa nailed pull-ups, push-ups and lunges inside a moving bus and that is all the fitness motivation we need to hit the gym this week.Taking to her social media handle, Shilpa shared the video that gave a sneak-peek of her effortless exercise session that made grind look all fun and games. The diva was featured dolled up in a blue waistcoat, teamed with a pair of baggy blue trousers and layered with a matching blue jacket.
01.Wellness examination
We strongly emphasize preventive care for your pets and develop a customized plan to keep your pet healthy and active. We recommend regular examinations.